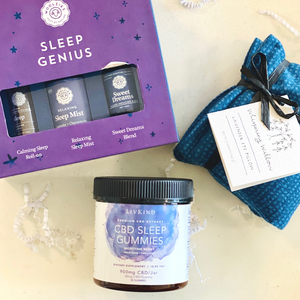 900 mg CBD Berry Gummies with melatonin - Sleep Genius Essential Oil Set - Lavender Eye Pillow
900 mg CBD Berry Gummies with melatonin 
Each BPA-free jar has 30 gummies and each gummy has 30 mg of premium CBD. Our CBD Gummies are an excellent way to try CBD for the first time or support an existing wellness regimen.
Simple, vegan, & gluten-free
30mg of CBD, 3mg of CBN, & 1mg of THC
3mg of premium melatonin
Potent formula crafted to support rest
About one hour after taking CBD gummies for sleep, you'll start to feel relaxed and ready for bed. The next morning you should wake up refreshed and ready to start your day!
These gummies contain 1mg of Delta-9 THC, but because it's hemp-derived and within the 0.3% legal limit dictated by the 2018 Farm Bill, this product is federally legal and can be shipped to most states.
Ingredients: Organic Cane Sugar, Organic Full Spectrum Hemp Distillate, Organic Tapioca Syrup, Purified Water, Pectin, Citric Acid, Organic Berry Flavor, Organic Purple Color, Organic Sunflower Lecithin, Organic Flavor.
 Whispering Willow Lavender Eye Pillow
Sleep Genius Kit
SWEET DREAMS ESSENTIAL OIL BLEND This Sweet Dreams blend helps to relax the mind and body and relieve insomnia. It has an earthy floral aroma and is a combination of lavender, chamomile, orange, and clary sage oils. Ingredients: Lavender, Chamomile, Orange, and Clary Sage Essential Oils.
LAVENDER DOUBLE-SIDED ROLL-ON Our double-sided roll-on features a dropper for diffusing and a roll-on for skin & body. This rich, floral, and herbaceous oil is stress-relieving and sleep-inducing. Ingredients: Rosewood, Myrrh, Spruce, Chamomile, Neroli, Orange, and Geranium Oils. Pre-Diluted in Almond Oil.
FACE + BODY RELAX MIST Soothe those tired eyes. In this relaxing face and body mist, lavender and jasmine effectively lull you to sleep and relieve stress. Just spritz onto face and body and enjoy its relaxing effects. Ingredients: Aqua, Glycerin, Hydrogenated, Castor Oil, Aloe
Woolzie oil blends are 100% natural, vegan, & contain no toxins, synthetics, fragrances, parabens or dyes.