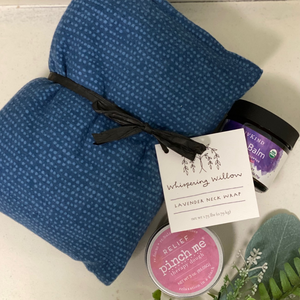 Lavender Neck Wrap - LivKind Relief Balm - Relief Pinch Me Therapy Dough
Whispering Willow Neck Wrap- Handcrafted in North Carolina, and Whispering Willow donates 10% of profits to charity. 
The hang tag provides instructions for heating and cooling the neck wrap.
Ingredients: wonderfully soft 100% cotton flannel filled with organic lavender flowers and organic flax seeds
Relief Pinch Me Therapy Dough- Today's high-impact lifestyles can take a toll on our precious systems especially when trying to figure out how to relieve stress, naturally. Replenish, rejuvenate, and get back to center with Pinch Me Therapy Dough; a professionally developed, soft, pliable dough infused with calming aromatherapy.  Massage between your fingers and feel the stress begin to fade away. A simple, holistic way to take the edge off.

Naturally Antibacterial
EVERY PINCH ME PURCHASE HELPS FUND OUR MISSION TO PAY IT FORWARD BY SUPPORTING THE WOUNDED WARRIOR PROJECT. 
LivKind Lavender Balm - LivKind balms are formulated with the finest ingredients to support healthy muscles and joints. A balanced combination of phytocannabinoid-rich hemp oil, organic beeswax, and organic aromatic essential oils may help soothe muscles and support skin health.