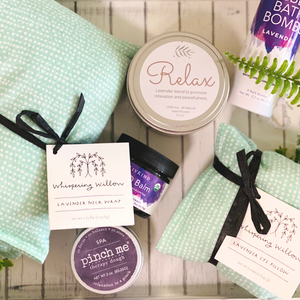 Lavender Neck Wrap - Lavender Eye Pillow - Spa Pinch Me Therapy Dough - Relax Lavender Candle - LivKind Lavender Balm - LivKind Lavender Bath Bombs 
Whispering Willow Neck Wrap & Eye Pillow- Handcrafted in North Carolina, and Whispering Willow donates 10% of profits to charity. 
The hang tag provides instructions for heating and cooling the neck wrap.
Ingredients: wonderfully soft 100% cotton flannel filled with organic lavender flowers and organic flax seeds
Spa Pinch Me Therapy Dough- The spa dough is soft and feminine, with just a hint of soothing lavender. All the tranquility of a day at the spa without the hefty price tag. Enjoy the lucid aroma of a restful day of pampering. 
Today's high-impact lifestyles can take a toll on our precious systems especially when trying to figure out how to relieve stress, naturally. Replenish, rejuvenate, and get back to center with Pinch Me Therapy Dough; a professionally developed, soft, pliable dough infused with calming aromatherapy.  Massage between your fingers and feel the stress begin to fade away. A simple, holistic way to take the edge off.

Naturally Antibacterial
EVERY PINCH ME PURCHASE HELPS FUND OUR MISSION TO PAY IT FORWARD BY SUPPORTING THE WOUNDED WARRIOR PROJECT. 
LivKind Lavender Bath Bombs - These Bath Bombs support and encourage relaxation. Infused with aromatic lavender oil, each bath bomb contains 25mg of CBD. The pack of four bath bombs is designed to help you unwind after a long day or simply as a treat. Bath time is bliss again.
Mindful Gifts Relax Candle - 100% soy all-natural relax candle is scented with pure lavender essential oils.
LivKind Lavender Balm - LivKind balms are formulated with the finest ingredients to support healthy muscles and joints. A balanced combination of phytocannabinoid-rich hemp oil, organic beeswax, and organic aromatic essential oils may help soothe muscles and support skin health.
View Lab Results Here for 900 mg Balm